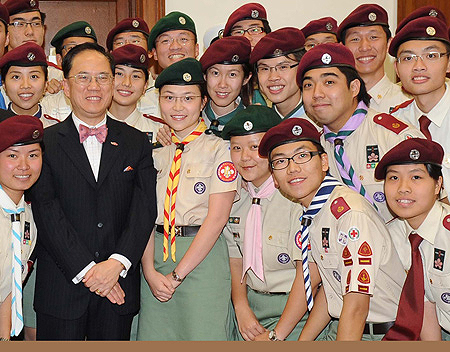 Hong Kong must strive for economic growth and wealth creation to address the employment and poverty issues. If we were to maintain welfare-based relief measures on a long-term basis, we would have to overhaul our tax system and increase tax rates. I believe the public would not agree with this approach. The fundamental solution lies in our common efforts in promoting the development of our industries.

"Hong Kong must constantly enhance its competitiveness and continue to evolve into a high value-added, knowledge-based economy to maintain its leading edge over global competitors and create more quality jobs."
Traditional Pillar Industries
Financial Services
Continue to develop Hong Kong as a global financial centre, asset management centre and offshore RMB business centre attracting capital and talent from within and outside the country
Tourism
Press ahead with construction of the new cruise terminal at Kai Tak and attract cruise vessels to homeport in Hong Kong
Trading and Logistics
Make available a number of permanent sites around Kwai Tsing for use by the trading and logistics sector to facilitate its shift to high-value goods and services
Professional Services
Continue to facilitate access to the Mainland market for Hong Kong's professional services through the Mainland and Hong Kong Closer Economic Partnership Arrangement (CEPA)
Six Industries
Optimise land use by releasing the potential of over 1 000 old industrial buildings through policies that encourage the redevelopment or conversion of industrial buildings by owners
Education Services
Reserve sites in Ho Man Tin and Wong Chuk Hang for operators providing self-financing degree programmes, which are expected to provide some 4 000 places
Medical Services
Reserve four sites at Wong Chuk Hang, Tseung Kwan O, Tai Po and Lantau for private hospital developments
Facilitate the development of Chinese medicine by expediting the setting of standards for Chinese herbal medicines commonly used in Hong Kong
Testing and Certification Services
Draw up a three-year development plan for the industry
Environmental Industries
Expand the Government's green procurement list and actively apply green specifications in procurement procedures to promote the green procurement policy
Innovation and Technology
Allocate about $200 million to launch an "R&D Cash Rebate Scheme" to encourage enterprises to invest in research and development
Cultural and Creative Industries
Support local cultural and creative industries to further develop the Mainland market through CEPA
Co-operation with Guangdong
Participate in the development of Qianhai in Shenzhen to promote and enhance our service industries
Enhancing Exchanges between Hong Kong and Taiwan
Promote multi-faceted, multi-level exchanges with Taiwan and consider setting up a multi-functional office in Taiwan at an appropriate time and in an appropriate format

"To support a knowledge-based economy, we must have a rich pool of talent. Only by providing a diverse and dynamic cultural life and a quality living environment can we attract talent from around the world to build a career in Hong Kong."
Conserving Central
Map out a comprehensive strategy for Central's future development from a new perspective and put forward a series of revitalisation projects that will add a new dimension to Central
Conserve and revitalise the Central Market as an "urban oasis"
Recommend converting the Murray Building into a hotel
Preserve the Main and East Wings of the Central Government Offices and demolish and redevelop the West Wing for commercial use
Substantially reduce the development density at the Central Ferry Piers sites and open up public space along the waterfront
Promoting the Use of Electric Vehicles
Launch an electric vehicle leasing scheme to promote the use of electric vehicles
Conservation
Succeeded in seeking approval from the Ministry of Land and Resources for our geopark to be listed as a national geopark
Healthcare Reform
Increase healthcare spending from 15% of the Government's recurrent expenditure to 17% by 2012
Work on a supplementary healthcare financing option based on voluntary participation for public consultation next year
Disease Control and Prevention
Provide human swine influenza vaccinations for vulnerable groups

"The progress of a society is measured not just by its affluence, but also by its core values, which include kindness, care for others, mutual support, civic mindedness and respect for traditional values."
Family Values
Launch a Happy Family Campaign to promote family core values
Anti-Drug Policy
Bring in hair drug testing and join hands with the Mainland's public security authorities to combat cross-boundary drug abuse and trafficking
Youth Development
Give greater support to youth uniformed groups
Internet Learning
Examine options to provide convenient and suitable Internet learning opportunities for students in need
Elderly Services
Increase the number of residential care places substantially by increasing the proportion of nursing home places in subsidised contract residential care homes for the elderly to 90% and purchasing vacant places from self-financing nursing homes and care and attention homes
Rehabilitation Services
Persons with Disabilities
Increase subvented residential care places and introduce a pilot Bought Place Scheme for residential care homes for persons with disabilities
Mental Health
Revamp community mental health support services, set up Integrated Community Centre for Mental Wellness in all 18 districts, and increase the number of medical social workers
Supporting Job Seekers
Disseminate information on job vacancies to job seekers through convenient channels, and establish a recruitment centre for the retail industry

"We will listen closely to the views of different sectors of the community with an accommodating and open attitude."
Consultation on Constitutional Development
Consult the public in November on the 2012 electoral arrangements
Deepening National Education
Deepen national education by strengthening the elements on China in various key learning areas under the primary and secondary curricula, organising Mainland exchange activities for students as part of the national education programme and aligning experiential learning with curriculum objectives and content

"We need not worry about the new competitive landscape. With an open mind, pioneering spirit, and full preparation, we can break new ground together."