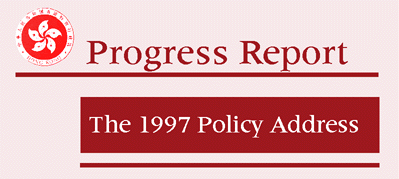 ---
Overview
The Hong Kong Special Administrative Region Government is an open and accountable Government. It will set out its objectives and programmes, and report on their progress annually thereafter. The publication of the Progress Report enables the public to judge our performance according to the published targets.
2. In the past year, we have worked on a total of 830 pledges. The following paragraphs summarise the progress we have made.
On Target
3. The Government is well on target in meeting 783 of these commitments, or 94% of the total.
We have already completed in full the implementation of 363 commitments.

We continue to honour 137 commitments which are ongoing, achieving substantial progress in areas such as social welfare, health, education, housing and protection of the environment.

We are on schedule in implementing a further 248 commitments.

We are actively reviewing 17 commitments where the programmes may have to be adjusted to take account of the changing needs of the community, the need for further discussions with the Legislature, the need to take account of public consultation or because of revisions to past policies.

We have encountered some slippage but expect to meet our overall targets on 18 commitments.
Behind Schedule
4. There are also 47 undertakings, or 6% of the total, where we are behind schedule. Our Report identifies clearly those undertakings which are behind schedule and explains the reasons for the shortfalls or delays. We will take all possible measures to catch up with the original targets.
5. We will continue to report to the community in detail on progress made on the outstanding commitments. This will enable the community to keep on assessing our performance against the promises we have made.
---
Contents
Overview
---