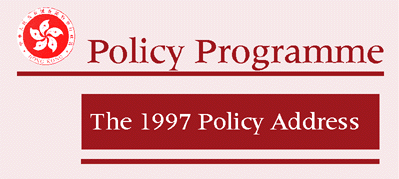 ---
Introduction
The Hong Kong Special Administrative Region (HKSAR) Government is committed to ensuring that it is open and fully accountable to the people of Hong Kong. Policies, aims and programmes must be clear to all so that the Government can be accountable for their delivery. With greater clarity of purpose and accessibility, the public can better assess our performance and help us improve our quality of service.
The Policy Programmes, which underpin the Policy Address delivered by the Chief Executive in October 1997, explain the objectives and ongoing work of each Policy Bureau and its supporting departments, as well as Department of Justice, Office of the Judiciary Administrator, Independent Commission Against Corruption and the Administration Wing of the Chief Secretary for Administration's Office, and their proposed new commitments for the coming year. They are set out in three sections:
Objectives state the overall objectives of the Government according to each programme area, in particular, responsibilities in relation to implementing the Basic Law are spelt out.

Major Programme Areas list the aims and the important features of each programme area. An overview of the current situation and key performance indicators are given. This section also sets out the Government's new commitments for the coming year.

Into the 21st Century describes the vision of the Government for a better Hong Kong as we enter the 21st Century and the plans we are making to meet our long-term needs.
---
Department of Justice

Administration Wing of the Chief Secretary for Administration's Office

Broadcasting, Culture and Sport Bureau

Independent Commission Against Corruption

Planning, Environment and Lands Bureau
---